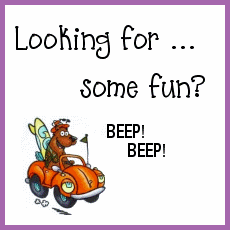 Starting TODAY, I'm going to be Special Guest Blogging on the 18th of every month for YOUR NEXT STAMP!  We're calling it "CAROLE'S CREATIVE COMMOTION" -- catchy, no?  You never know what I'll have up my sleeve (and neither will I, until I do it; y'all know I'm a bit loosey-goosey that way), so you're just going to have to go there to check it out.  I'll discuss the meaning of life, how to lose 10 lbs. in 5 days without even trying, and how to get your children to WANT to clean their rooms.  Plus, I'll also talk about stamping, crafting, and whatnot.
And did I mention that there will be PRIZES?!  Mmm-hmm!  That's correct!
So head over right now to the YNS Blog and read my post.  Then leave me a comment with your thoughts.  Pretty please?  It would mean a whole lot to me. 
Now, I've got to get my boys off on their first day back to school.  Carter is going into 1st grade - he's officially a big boy!  And my Truman will be a freshman in high school.  <--- That's just WRONG!  I'll be sure to show 'em off to you with the annual first day of school pic by the front door. 
*sigh...* Babies don't keep, do they?